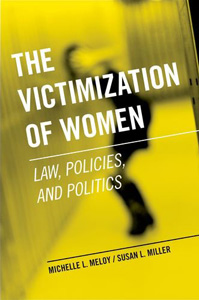 The Victimization of Women: Laws, Policies, and Politics, (Oxford: Oxford University Press, 2010). Co-authored with Susan L. Miller.
Overview
In The Victimization of Women, Michelle Meloy and Susan Miller present a balanced and comprehensive summary of the most significant research on the victimizations, violence, and victim politics that disproportionately affect women. They examine the history of violence against women, the surrounding debates, the legal reforms, the related media and social-service responses, and the current science on intimate-partner violence, stalking, sexual harassment, sexual assault, and rape. They augment these victimization findings with original research on women convicted of domestic battery and men convicted of sexual abuse and other sex-related offenses. In these new data, the authors explore the unanticipated consequences associated with changes to the laws governing domestic violence and the newer forms of sex-offender legislation. Based on qualitative data involving in-depth, offender-based interviews, and analyzing the circumstances surrounding arrests, victimizations, and experiences with the criminal justice system, The Victimization of Women makes great strides forward in understanding and ultimately combating violence against women.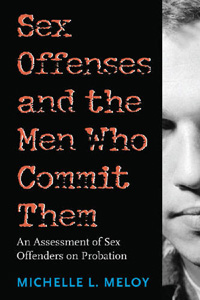 Sex Offenses and the Men Who Commit Them. (Boston: Northeastern University Press, 2006).
Overview
Sex offenders are among the most despised criminals of our time, inspiring more legislation than any other class of violent offenders. Such horrific high-profile cases as those of Polly Klaas, Megan Kanka, Amber Hagerman, and, more recently, Elizabeth Smart, Jessica Lunsford, and Sarah Lunde have fed the media's overrepresentation and exploitation of cases involving unknown or barely known assailants ("stranger-danger"), which in reality constitute only a tiny percentage of all sexual assaults. Nonetheless, lawmakers and judicial personnel have responded to the false public perception that most sex crimes are perpetrated by strangers by enacting many legal policies targeted primarily at stranger offenders, including registration and community notification (often referred to as Megan's Law), AMBER alerts, intensive and/or lifetime probation (community supervision for life), specialized surveillance units, longer prison terms, and involuntary civil commitment. For better or worse, these public safety techniques are often applied to probated sex offenders, regardless of the severity of their crimes.
This book takes a hard look at this recent trend in the criminal justice response to sex crimes. Michelle L. Meloy investigated more than 150 convicted male sex offenders in a large metropolitan area who were sentenced to probation and supervised by a specialized surveillance unit. She interviewed many of these men, seeking information on the catalysts, stigmas, and effective deterrence of sexual violence. Her research is among the first to test a utility-based theory of sexual violence on a group of sex offender probationers. Rejecting the commonly held belief that sex offending is solely the result of a medical psychopathology on the part of the offender, Meloy demonstrates how certain methods of police or community surveillance undermine the ability of sex offender probationers to effectively reestablish themselves as citizens, and she provides an empirically based public policy response to sex offending that offers real promise in terms of deterrence and increased public protection.